Philosophy
The Noesis Way
Take care of risk first and profits will follow
Top-quality securities only

Margin of safety

Committed to the integration of ESG standards

Moderate diversification

Capital preservation always on our top priority
Long-term approach
The market is emotional in the short term and rational in the long run.
Evaluate the company from a long-term perspective and take advantage of short-term volatility to trade.
As long as the business is a "crown jewel", our favorite holding period is forever.
5 Questions we ask about every investment
1. Do we thoroughly understand the business?
2. Would we be proud to own this business?
3. Are the long-term prospects favorable?
4. Is management competent and trustworthy?
5. Is the price attractive enough for us to be willing to invest our own family's money in it?
Client Experience
We have a comprehensive process of six steps:
1. Understand your goals:
Your financial advisor will work with you to gain an understanding of your current financial situation and objectives. We will consult with your legal and tax professionals as needed, to ensure a complete understanding of your personal situation.
2. Develop a long term strategy:
Your financial advisor together with your portfolio manager and the research team will develop a long-term strategy.
3. Build a personalized portfolio:
Based on your needs and goals, your financial situation and current market conditions, we will recommend a portfolio customized for you.
4. Implement investment strategy:
Your Portfolio manager will take appropriate action to allocate your assets based on the recommended strategy.
5. Analyze, monitor and guide:
We continue to monitor your portfolio, keeping in mind your investment objectives. Your financial advisor will maintain a close relationship with you, providing regular updates
6. Adjust as needed:
As your financial goals and objectives may change over time, your financial advisor will ensure that your portfolio stays on track to meet your needs.
How We Work
Acquiring adequate knowledge of financial markets, individual securities, and our clients' specific needs are complex tasks. Successfully doing so requires a team of professionals working together, with each one dedicated to achieving excellence within their respective areas of expertise. The collective knowledge of our team members benefits you throughout our client process.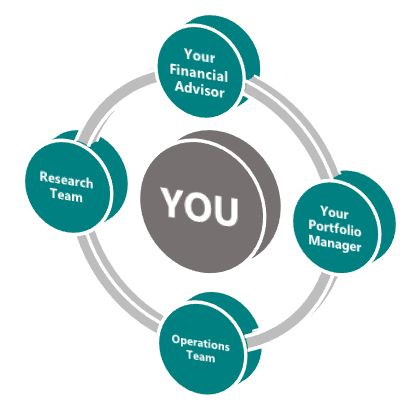 Your Financial Advisor
The core of our client process is the relationship between you and your Financial Advisor. He or she will work with you to gain an understanding of your current financial situation. When necessary, your Financial Advisor will also collaborate with other professionals, such as your CPA and/or attorney.
Your Portfolio Manager
Using the information provided by you and your Financial Advisor, he or she develops a portfolio tailored to your needs.  Your current resources, objectives, time horizon, tolerance for risk and other pertinent factors are taken into consideration when developing an appropriate portfolio.  Once parameters are set, the Portfolio Manager begins working with the Research Team to discuss the specific securities that will be selected for your portfolio.
Research Team
They are responsible for monitoring the investments owned by our clients and explore new opportunities.  They conduct original research and review materials from leading industry analysts in order to gain a thorough understanding of the securities we select for our clients.  They work with our Portfolio Managers to make sure that each client's portfolio is constructed in a manner that balances their needs for long-term growth, current income, and preservation of capital.
Services
We can help you through every stage of your financial journey:

Financial Planning and Investment Strategy
Achieving long-term financial safety requires careful planning and a comprehensive investment process. Based on your goals and needs we build a solution for you. We can help you develop your family's education, tax, retirement and estate plan.
Portfolio Management
Managing the investment portfolio is the cornerstone of any integrated wealth management solution. This is a complex and dynamic process that requires constant attention. Our portfolio managers and research team will implement a customized portfolio based on your needs.
Cashflow Management 
At Noesis we pay special attention to the cash flow of our clients. We like to understand your needs and dreams in order to develop proper cash management. We provide guidance on spending amounts, retirement account distributions and optimization of withdrawals.
Generational Planning
Successfully sustaining wealth requires a combination of realistic strategies and understanding between generations about priorities for spending, saving and giving. We can guide you through the process of making your wealth continue into the next generation and further.
Custodial
We use BinckBank as an independent custodian for safety and security reasons.